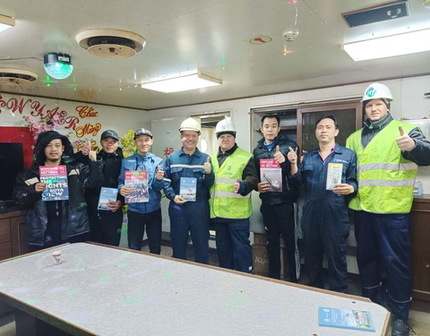 20.03.2023
Trade union inspections of vessels yield results
Today Inspectors of the Far Eastern Territorial Organization of the Seafarers' Union of Russia (SUR FETO) visited the m/v MAC Dalian (flag of Panama, IMO 9220392) berthed at Nakhodka Commercial Seaport under Chinese cars loading. Looking ahead, we note that following their visit the employer entered into negotiations with the trade union on signing the collective agreement approved by the International Transport Workers' Federation.
According to Nikolay Sukhanov, FETO SUR Chairman, the Hong Kong-based company Dmuers Alpha Shipping Ltd is the registered owner and the operator of the vessel. The crew of the m/v/MAC Dalian consists of 19 Vietnamese. The salary of an AB Seaman is USD1,300, the salary of a captain is USD6,400.
"There is no ITF collective agreement on board," he added. "Certificates of Insurance required by the Maritime Labor Convention are in place. Seafarers' Contracts of Employment do not specify the amount of insurance in case of injury or death; crew members do not know what they or their relatives will receive if an insured incident occurs.
Read more ...